2018 September Results & Critques
Shetland Sheepdog Club of NSW 30 Sep 2018 show
Judge Mrs Pauline Brennan-Lim - Aliste Shelties
Shetland Sheepdog Club of NSW Inc Championship Show critique.
Firstly I would like to thank the Committee for the opportunity to judge your Specialty. I had a lovely day enjoying the weather and seeing some lovely Shelties. Thanks also to Garry and Danielle Dryburgh for looking after me during the day.
Please keep in mind when reading this critique, that I judge Shelties for what I like about them and generally not what I don't like and also for what benefits they can provide to the overall betterment of the breed.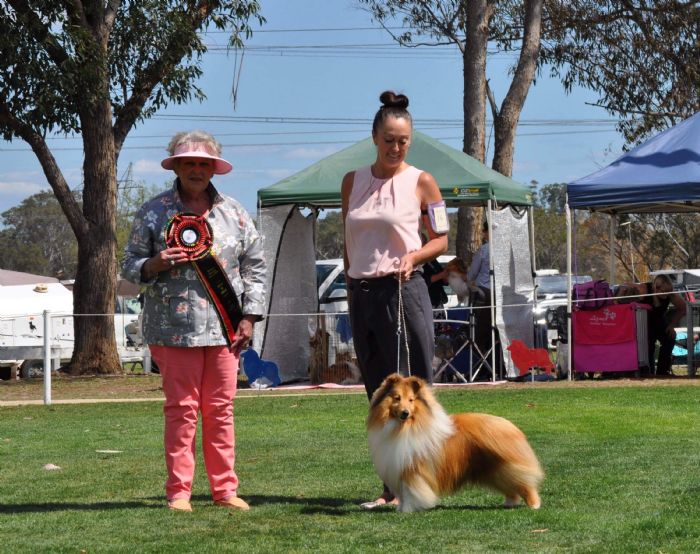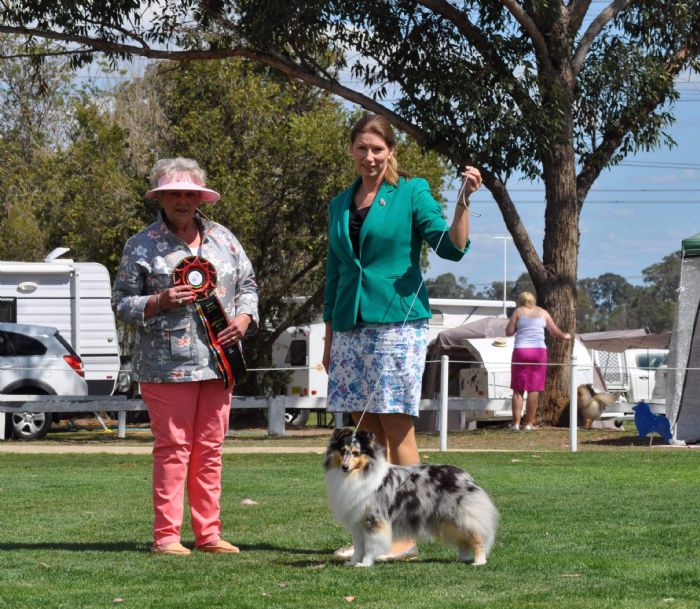 Best in Show - Sup Ch Louanda Frequent Flyer Runner up Best in Show - Ch. Brashelle Scrumdiddlyumptious
Baby Puppy Dog.
Hartly The Jewel Thief.

Baby of nearly 6 months with a very good outline and strong topline. Lovely neck, strong legs and feet. Moving very well for his age. Overall very promising.
Puppy Dog.
1.Ch. Deerod Don't You Know Its Magic- Best Puppy in Show
Very glamourous puppy with a super coat. The coat however, can swallow his neck up, on the move. Lovely neck and outline on the stack. Excellent head planes and ears. Covers ground on the side gait but a bit close coming towards, today. Was a little unsettled at times but type won out. Very promising puppy.
2. Cheralay As If By Magic.
Similar in type to the winner. Topline not quite as strong. Moving adequately for his age.
3. Beauideal Turn On The Charm.
Smaller puppy, very happy on the day. Lovely size, good head type, good ears and expression. Did not have the forequarter angulation of 1st and 2nd. Balanced gait on the move.
Junior Dog.
Scotsdream Rekindle The Spark.

A good sized dog with a lovely outline. Well balanced head with good ears and expression. Really stretched out on the move. Excellent solid topline.

Brashelle Back To You

Smallish Blue Merle dog with the sweetest head and expression. Body a bit too compact for me and a little restricted in front. Overall colour was lovely.
Intermediate Dog
Hartly How About That.

Handsome gold boy with a super outline and solid topline. Very dark eye and overall good expression. Would prefer a little more chin. Moving true coming forward but a bit close in the rear moving away.

Ronashill Blue Tycoon

Blue Merle dog with good colour, head and ears. Topline a little soft and shoulder angles not as good as the winner. Toeing out a little behind.

Tisman Tayla Ina Tux

Tri boy with a solid head. Expression not quite as sweet as 1st and 2nd. Good topline on the move and covered the ground well. Lacking a little coat.
Australian Bred Dog
Ch. Sheldan Mile High- Reserve Challenge Dog
Good head and expression, carrying a slightly better neck than 2nd. Excellent coat and outline. Could do with a little more shoulder angle but overall balanced gait and showed well.
2. Ch. Daydream Darius
Very similar type to 1st place winner, slightly shorter in body. Balanced gait. Shoulder angulation not quite as good as 1st.Slightly longer in head but still balanced.
Open Dog
Sup. Ch. Louanda Frequent Flyer- Challenge Dog. Best in Show
Gold dog of substance. Very good coat and outline. Good legs and feet. Could do with a little more underjaw and would prefer a slightly better angled forequarter. Showed very well and really looked the part of a winner.
2. Ch. Bluescot Bravado
Shaded sable dog whose coat colour was stunning. This boy was quite over weight which hampered his movement. Good neck and topline and overall outline.
3. Tizman The Gentleman has Swagger
Good sized dog who didn't much like the table. Good neck and expression. Good coat. Toeing out in the rear when moving away.
Baby Puppy Bitch
Deerod That's the Way It Is

A nicely shaped gold girl with a good strong topline. Sweet head and expression. Good feet. Stretches out nicely, once she gets going.

Lizneb Sykes Ov Diamonds

Very similar in type to 1st place. Good body and movement for a baby. Lovely head and expression. Very promising.

Bluescot Bewitched

Pretty tri-colour with a good outline and solid topline. Lovely ears. A bit narrow in front at the moment and didn't stretch out as much as 1 and 2 on the move.
Minor Puppy Bitch
Daydream Devil Inside
Very petite tri-colour with a good neck, topline and overall outline. Moving out well but a little close in front.
2. Tisman Sayou Sayme
Another very nice tri-colour. Very close decision in this class, but this little girl, wasn't quite as settled as 1st place winner. Good legs, feet and tail. Overall promising puppy.
Puppy Bitch
Summerset Game Breaker

This girl had a lovely head, ears and expression but I wouldn't want her any taller. Good strong topline with balanced gait. Good legs and feet.

Thurrana Toskana

Pretty gold girl. Ears a little light and croup seems too cut off. Good coat and neck and movement fairly balanced.

Cheralay Meant To Be
Another gold girl of good size. Pretty head, ears and expression Moving a little close behind.
Junior Bitch
Cheralay How Enchanting

Very pretty gold girl with lovely head, expression and good ears. Covering ground well in profile but moving a bit wide coming forward. Topline not as strong as would like.
Intermediate Bitch
Ch. Brashelle Galactic Crisis- Reserve Challenge Bitch
Lovely blue girl with a very sweet head and expression covered the ground fairly well. Very alert bitch and her blue colour was very clear.
2. Ch. Deerod Etoile Brillante
A sable bitch of similar style to 1st place. Solid topline very pretty head and expression. Covered the ground well. Not a lot between 1st and 2nd.
3. Ch. Juzvee Just Me
Very sturdy bitch of larger proportions. Very good head and eye with super solid topline. Excellent mover. I rewarded this girl's conformation.
Australian Bred Bitch
Ch. Nedusr Love Me Like U Do

Shaded sable girl of good size, lovely head and expression. Good legs and feet and covers adequate ground on the move, albeit moving a little close in front and behind.
Open Bitch
Ch. Brashelle Scrumdiddlyumptious- Challenge Bitch, R/Up to Best in Show
A lovely blue bitch with a great head and expression. Very good overall balance. Very sound with good legs and feet and covering the ground so well. She's a real showgirl.
2. Sup. Ch. Hartly Shine On Me
I loved this very petite 7 year old sable girl. Lovely head and expression. Very good balance and outline. Unfortunately not in coat and moving a little wide in front today.
3. Ch. Bluescot Embellished
Bigger bi-blue girl who was quite sound and of good colour. Good head planes and shows very well.
Neuter Bitch- Best Neuter
Ch. Summerset Heart Breaker.