Obedience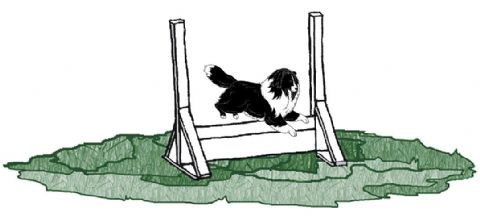 Having Fun with your Sheltie
The Shetland Sheepdog is a small, long-haired herding breed originating from the Shetland Isles. As a working dog, the Sheltie is naturally active and thrives on attention. Their heritage as a herding dog has also given them a keen intellect and desire to please, making them a very suitable candidate for many activities. Getting involved in any 'sporting' disciplines is a great way to bond with your Sheltie! They love the challenge of being taught something new, and the attention they receive when they are out socialising.
The Proof: the great number of Shelties who compete at the very highest levels of all the below disciplines. Why not get involved with some of the activities mentioned overleaf to have some fun with your Sheltie, and make some new friends too!?!
Want any more information?Contact...
• The Shetland Sheepdog Club of NSW Inc.
• Dogs NSW — The state's official canine controlling body and main advisory on all things 'doggy.'
• Your local Dog Training Club.
OBEDIENCE TRIALS:
A series of exercises to test the dog's total obedience to the handler. The dog learns to 'heel,' 'come,' 'sit,' 'stand,' 'drop (down),' 'stay,' 'fetch' and 'jump' in a very precise manner. Executed properly this can be fun, and a very pretty team to watch, especially with a Sheltie!
TRACKING: Even though all dogs can track, track trailing is tracking human scent, disregarding all else under the nose! Worked in a harness and on a long line, abiding by rules. A very natural occupation for a dog, and once understanding what is required, this dog gains immense satisfaction, whilst the handler usually loses condition due to the sheer physical output needed! Tracking is only done at a brisk walk, and Shelties have justly earned the reputation of "good tracking dogs".
AGILITY: Due to the very fast physical nature of this chosen sport, Shelties excel. They are very agile little dogs. Not dissimilar to horse show jumping, there is a set course of jumps and obstacles, incurring penalty points for fouling, and run on the clock. This is great fun for Shelties and their fun-loving parent!
HERDING:
Even though sheepwork was one of the very first tasks man set dog to do, herding as a titled event now is relatively new. The Shetland Sheepdog was bred to herd and gather. The Sheltie will find much to chase in his humdrum pet role, but if he can get his paws onto a few sheep – all the better! Shelties love herding.
ENDURANCE: An annual event only. What is good about endurance training is that it shows most clearly the amount of exercise our Shelties require to keep super fit. The test is run over 20 km, split into 3 legs, with 4 Vet checks and held in the winter cool. Once having trained for endurance, caring owners usually maintain an above average fitness for their Sheltie (and self). This test is run in hand or from a bicycle.
FLYBALL: Another new sport which Shelties love to do. A series of small hurdles are set up in line to a box at the end, where they will fetch their beloved ball. Then race back to the handler as fast as they can. This is a team event. Great fun for all.
DOGGY DANCING: Self-explanatory. This is a reasonably new concept for our dog world. Very few rules as such – set to one's own choice of music, and very thrilling to watch. Shelties are excellent at dancing – with or without the music!
PET THERAPY: Dogs are very therapeutic to us all. But never more so than to the sick, frail or infirm. If your Sheltie meets the stringent criteria to be accepted, this work is the most rewarding of all. Shelties were almost bred to make this their life's work. They excel at making everyone they meet feel so much better, and it is done with such sweet nature. They make the best therapy dogs.
For more information, please contact one of the SSCNSW Obedience Sub-Committee: